Tamil
, a Dravidian language spoken by around 52 million people in Indian, Sri Lanka, Malaysia, Vietnam, Singapore, Canada, the USA, UK and Australia. It is the first language of the Indian state of Tamil Nadu, and is spoken by a significant minority of people (2 million) in north-eastern Sri Lanka.
Tamil alphabet
Vowels and vowel diacritics
Non-standard consonant-vowel combinations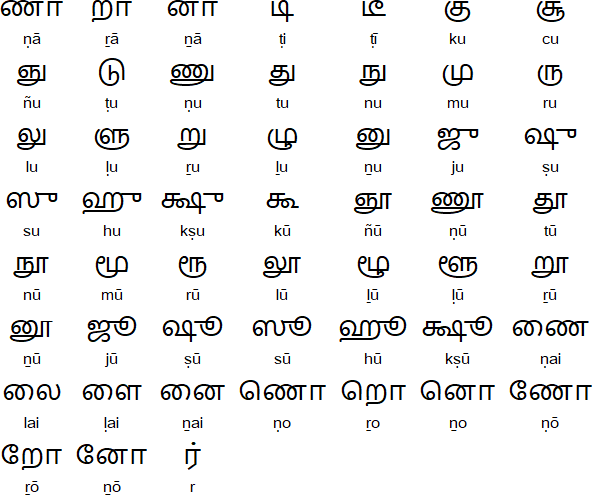 Consonants
The final five consonants (the blue ones) are known as
grantha
letters and are used to write consonants borrowed from Sanskrit, and also some words of English origin.
Numerals
The numerals rarely appear in modern Tamil texts. Instead, 'Arabic' numerals (1, 2, 3, etc.) are used.
Other symbols

Sample text in Tamil

Transliteration
Maṉitap piṛaviyiṉar čakalarum čutantiramākavē piṛakkiṉṛaṉar; avarkaḷ matippilum urimaikaḷilum čamamāṉavarkaḷ. Avarkaḷ niyāyattaiyum maṉačāṭčiyaiyum iyaṛpaṇpākap peṛṛavarkaḷ. Avarkaḷ oruvaruṭaṉoruvar čakōtara uṇarvup pāṅkil naṭantukoḷḷal vēṇṭum.